Featured Item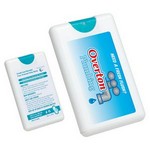 Credit Card Fresh Flush Pretreat Potty S...
Fresh Ocean scent odor eliminator spray. Environmentally friendly essential oils create a protective scent barrier on the surface of water to trap odor underneath. Pretreat toilet bowl with 2-3 spritz...
$1.75 - $1.95
Impressions Advertising Specialties
SPECIALS EVERY MONTH! Click on our Specials page to save money! As a major supplier of Promotional Products and Advertising Specialties, IAS is in a position to take advantage of the latest technology providing you with the most cost effective, promotional products, delivered on time. Our new catalog features promo items covering every major Specialty Advertising catagory. Call Toll Free for all your Specialty Advertising Needs 1-866-796-8413.
Signature Showrooms